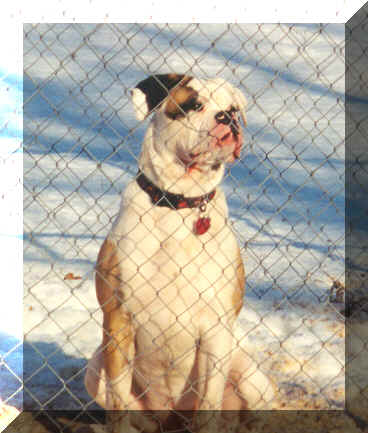 Ivy is out of Izens Roman Draco and Izens Naturally Bad Tia. She is 95lbs at working weight.
Ivy started her catch work training at about 8mo. of age and by 21mo. she had obtained her CD1 title. Ivy has also competed in a national catchdog trial, finishing in the top 10.
We had Ivy's PennHip films done in April when she turned two, giving her time to fully mature. Her PennHip scores are RH .39 and LH .37 which places her in the top 10 percent of the breed.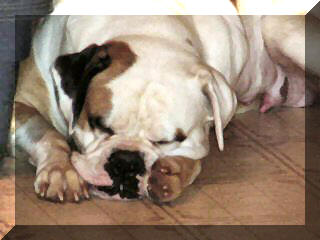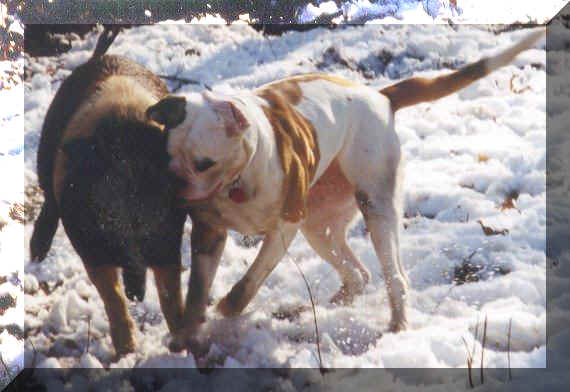 Izen's Roman Draco
Sure-Grip's Rattler
Sure-Grip's Dick the Cruiser
Johnson's Dozer Bruno
Johnson's Machine Buckaroo
Johnson's Sugar Doll 20
Ruby Farneti
King's Bruiser Bo 6
Johnson's Sugar Doll 6
Sure-Grip's Rodeo Rose
Symmes' Rip'N Woody
Johnson's Red Machine
Johnson's Tosh
Sure-Grip's Hoosier Blue
Symmes' Bulldog Drummond
Sure-Grip's Dutchess Marie
DeSoto's Reina of Sure-Grip
Johnson's Zeke of Sure-Grip
Symmes' Terminator
Symme's Bulldog Drummond
Sure-Grip's Dutchess Marie
Sure-Grip's Sweet Sister Sadie
Symmes' Rip'N Woody
Symmes' Jet Bitch
Johnson's Zeena of Sure-Grip
Sure-Grip's Freddie Kruegger
Symmes' Rip'N Woody
Symmes' Slashin' Sheena
Motley's Tinkerbell of Sure-Grip
Symmes' Rip'N Woody
Sure-Grip's Hoosier Blue
Izen's Naturally Bad Tia
Blackwell's Indomitable Snowman
MGK's Action Jackson
MGK's Mountain Gator Red
Symmes' Rip'N Woody
Symmes' Slashen' Sheena
MGK's She's A Doozy
Johnson's Dozer Bruno
Ruby Farneti
Peeler's Miss Bully's Buck
Johnson's Bo Donald
Johnson's Mean Machine
Johnson's Machine Susie Q
Johnson's Collette 14
Crimson's Elrod
Johnson's Collette 3
Collinsville Princess
Blackwell's Cracker Jack
MGK's Mountain Gator Red
Symmes' Rip'N Woody
Symmes' Slashin' Sheena
Blackwell's Rising Star
Crimson's Elrod
Blackwell's Black-eyed Susan
Blackwell's Princess Bam
MGK's Bam-Bam
Johnson's Dozer Bruno
Ruby Farneti
MGK's Tulsa
MGK's Mountain Gator Red
MGK's She's A Doozy